The last quarter of 2020 has been extremely bullish for Bitcoin, with an increase of 70%. In particular, November saw the highest monthly close after BTC broke the all-time highs on several exchanges.
While the primary cryptocurrency has enjoyed the last few months, gold's performance has contrasted significantly. The precious metal has lost over 6% of value since October 1st.
The two assets displayed a high correlation earlier this year. However, the latest price developments have breached discussion about decoupling. The crypto analytics company Skew was the latest to highlight the contrast between BTC's booming price and the bullion's decline.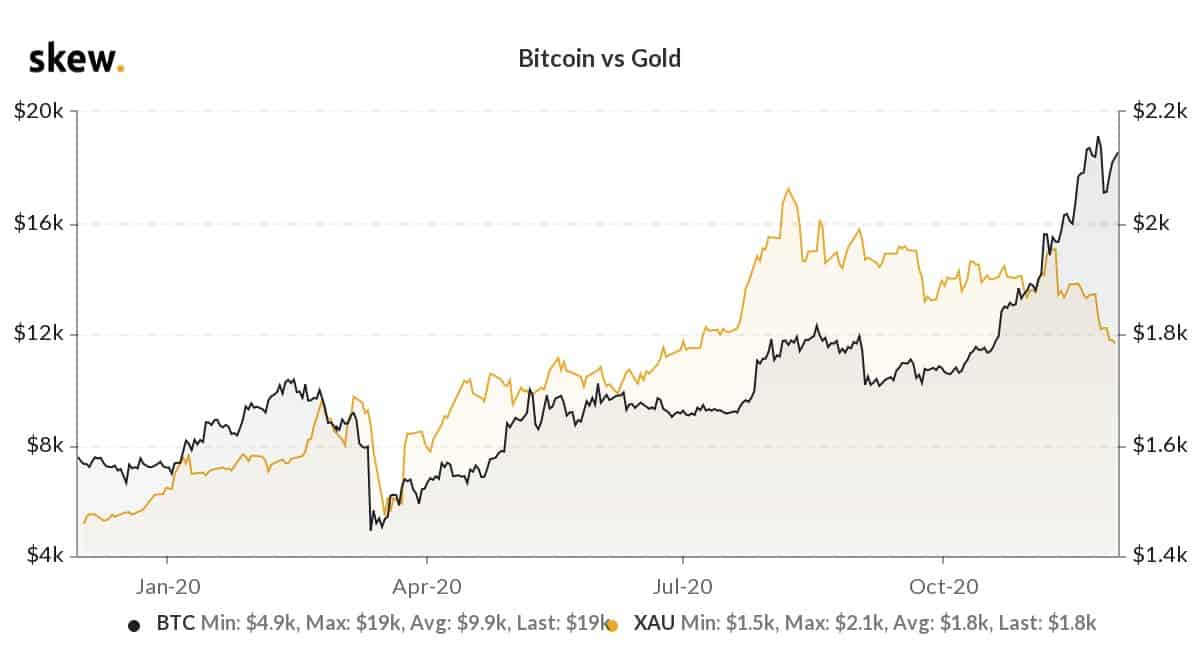 Institutional Investors Replace Gold With BTC: Yes Or No?
The community has been comparing Bitcoin and gold since the former exists. However, the narrative that BTC will, or even that it has already started, replace the bullion has blossomed in popularity in the past few months.
JPMorgan Chase & Co published a report last month asserting that Bitcoin could further grow as it has started to compete with gold in terms of institutional investors' interest.
The Chief Investment Officer of the world's largest asset manager BlackRock also shares this belief. He noted that BTC's durable technology could soon "take the place of gold to a large extent."
Former hedge fund manager Raoul Pal said on Sunday that he planned to sell most of his gold positions while scaling mostly into bitcoin.
On the other side of this argument sit Bitcoin bashers such as Peter Schiff. The CEO of Europac and popular gold-bug recently argued that BTC bulls are pumping the price artificially, hoping that institutional investors will "have to chance but to buy for fear of missing out."
Later on, he commented that Bitcoin is "not taking any market share away from gold" and further reaffirmed his stance that whales are behind the recent rally as they want to dump the cryptocurrency.
Bitcoin is not taking any market share away from #gold. That hype is just part of the pump so the whales can dump. The only markets where #Bitcoin is taking share are for lottery tickets, sports betting, casino gaming, penny-stocks, and some overpriced large cap momentum stocks.

— Peter Schiff (@PeterSchiff) November 30, 2020
Large BTC Holders Increase In November
Bitcoin addresses containing a substantial number of coins are typically a good indicator of the behavior of large BTC investors. According to data from Santiment, there have been 44 new addresses with 1,000 or more coins and 820 new addresses with 10 – 1,000 bitcoins created in the past two weeks alone.
Interestingly, as large addresses have been increasing in the past several weeks, smaller wallets, generally representing retail investors, have declined. Santiment indicated that the number of addresses with 0.1 – 10 BTC has dropped by 40,000 in the same period.
Source: Crypto Potato
https://dailybitcoinreport.com/wp-content/uploads/2017/09/bitcoin-300x59.png
0
0
Crypto Potato
https://dailybitcoinreport.com/wp-content/uploads/2017/09/bitcoin-300x59.png
Crypto Potato
2020-12-01 15:27:17
2020-12-01 19:31:00
Analysis: After a 70% Increase Bitcoin Has Decoupled From Gold In Q4