Bitcoin
The support around $10,000 did not hold. The price dropped and examined the support levels around $9200. The chart shows a resemblance from when Bitcoin went from $6000 to $3200, but it is unclear whether it will actually repeat the move and if we will see a 50% correction soon. Resistance in this range is at $10100.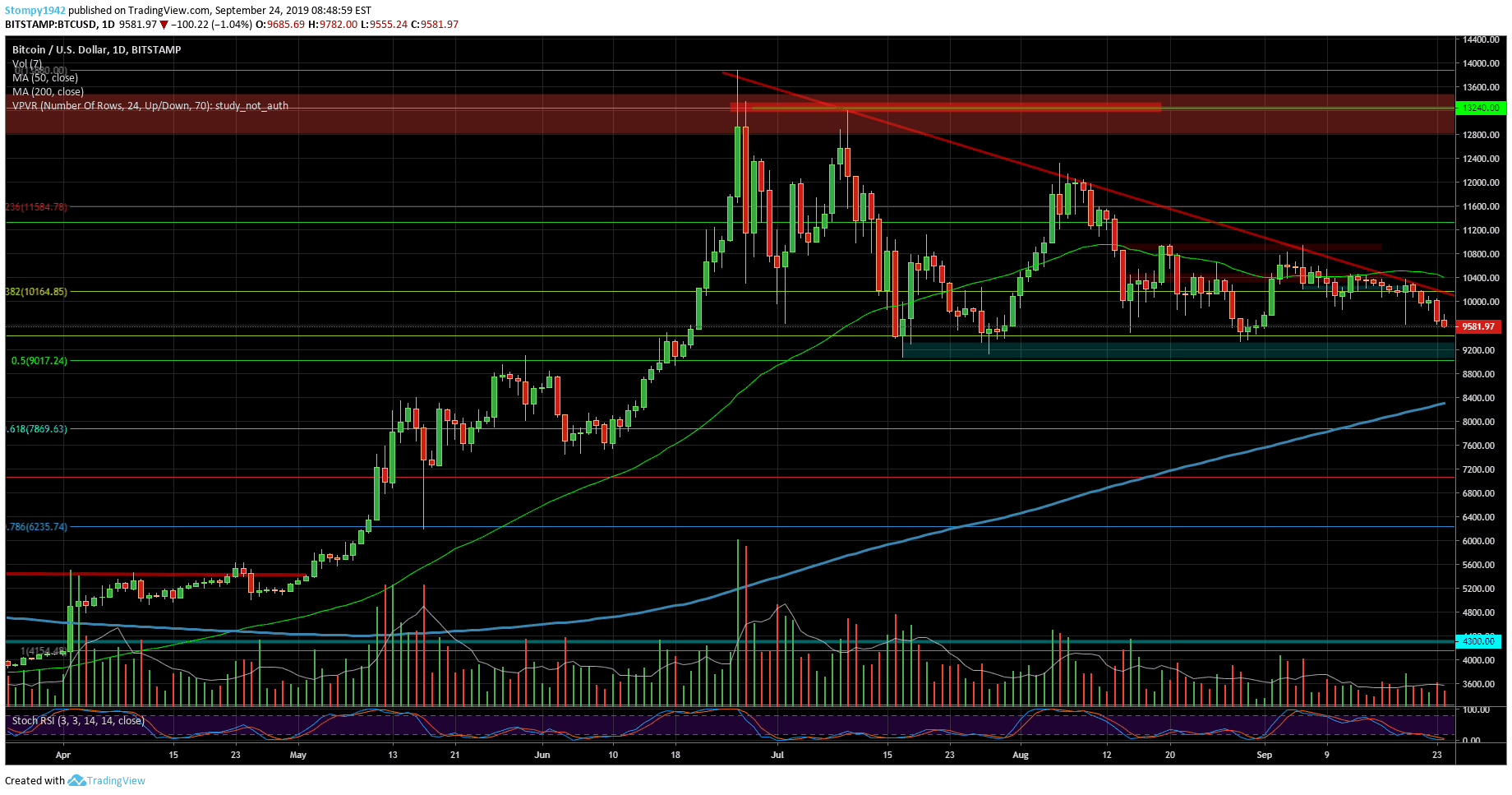 Ethereum
Against the dollar, the price did not perform well above $ 200 and corrected quite quickly to the $190 range, where short-term support is tested. Please note that support for $ 180 can also be tested.
Against Bitcoin, we saw a week of ups which ended with a sharp correction under the influence of what's happening with Bitcoin. The Alt's still seem to follow Bitcoin's behavior. Resistance is at 0.022BTC and support is at 0.019BTC in this range.
Ripple
Against the dollar, the spike we saw last week was almost erased and the price corrected to return to test the support at 26 cents. Strong resistance is found at 30 cents. The increase was rapid and so was the correction.
Against Bitcoin, we saw the attempt to break 3000SAT fail and the price dropped to the support at 2700SAT just over the 50 MA. The next support is around 2500SAT. Resistance is at 3000SAT.
BAT
Against the dollar, support is found at around 16 cents after a continuing correction from April. The resistance is at 22 cents in this range and if we break out we will try to change the trend up again.
Against Bitcoin, the price holds at the support around 1500SAT in an attempt to break through the 50 MA line and build on it during the past week's resistance at 2200 SAT.
DASH
Against the dollar, support is at around $80 while the resistance is at $100. The pattern seems to have completed H&S and the attempt to break up first failed. Meanwhile, the price is looking at the support.
Against Bitcoin, the weekly chart gives a clearer picture of the cycle that DASH has completed and reversed the entire 2018 increase. The support at 0.008BTC provided some confidence and trade volume, but that was not enough and the price shuffled in these ranges.
The post Crypto Price Analysis & Overview: Bitcoin, Ethereum, Ripple, Bat, Dash appeared first on CryptoPotato.
Source: Crypto Potato
https://dailybitcoinreport.com/wp-content/uploads/2017/09/bitcoin-300x59.png
0
0
Crypto Potato
https://dailybitcoinreport.com/wp-content/uploads/2017/09/bitcoin-300x59.png
Crypto Potato
2019-09-24 16:02:17
2019-09-24 16:02:17
Crypto Price Analysis & Overview: Bitcoin, Ethereum, Ripple, Bat, Dash